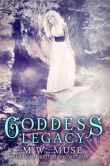 Review of The Goddess Legacy by M. W. Muse
Overview from www.barnesandnoble.com: Legacy Kore is an average seventeen year old with your basic insane crush on the hottest guy in school... rather Adin Shepard was the hottest guy in school before he graduated a couple of weeks ago. Now it's summer vacation and she's not sure when she'll get to see him again. Until he shows up at her surprise seventeenth birthday party. Cue saliva glands--it's time to drool.


But her giddiness is cut short when her guardian delivers an emotional blow, telling Legacy her mother hadn't died when she was baby, but that she'd left for Legacy's protection all those years ago. After the initial shock, she expects some story about how her mother was in the Witness Protection Program or something else just as crazy, but when she's told that her mother is a Greek Goddess and that Legacy is changing into one too, she thinks her guardian needs a trip to a mental hospital. Legacy a goddess? Um, yeah. Right. And her BFF is the Easter Bunny.

While trying to make sense out of something that was impossible to believe, Adin asks Legacy out on a date. She is thrilled that her fantasy might become a reality, but when she meets the new guy in town, River, she discovers everything isn't always as it seems, and the legacy she wants just might not be the legacy she is destined to have.




My Review:
Goddess Legacy
is the story of one young girl's journey on her way to become a goddess. Legacy Kore is seventeen years old when she hears the strange story from her guardian that she will become a goddess by her eighteenth birthday.
Dismissing it as crazy at first, Legacy, tries her best to continue on with her life, especially now that dreamboat Adin has asked her out. But when she meets River, another soon to be Greek god, things get even weirder. She also begins to wonder whether her parents are actually alive after all.
The story is an unusual entry into the Fantasy genre since we are dealing with deities rather than dwarfs, elves and fairies. It does however; feature the typical love triangle that we saw in Twilight and many others.
Legacy seems to have admired Adin all her life and thought her feelings were not returned but after her birthday she discovers that she was wrong. He confesses that he has liked her for a long time and so it seems that they might live happily ever after until River comes into the picture. He is the son of Legacy's boss who also professes love for her and after realizing that she and River do share a bond, she wonders whether she will ever be sure about choosing Adin.
Meanwhile she is trying to work out what her role as a Greek goddess of the future will be and wonders whether or not she will ever she her mother again.
The plot of the story is a good one, even with the love triangle. I know it sounds weird but I am really sick of love triangle. I don't know many people who are one so they often seem unrealistic and I keep wondering who are these women that can seem to make up their minds about who they want?
There are however, a few things that I don't like. Some chapters, particularly the first one, seem to be too heavy with the backstory. I really don't want to know the protagonist's every thought, especially when they seem mundane.
Plus I agree with other reviewers that there is just too much about Legacy's dates with Adin. I mean every minute detail is in there practically and it gets a little boring. I found myself skipping over those parts. I liked that they decided to take it slow in their relationship but we readers don't really want to hear exactly how slow it is either. There should have been more emphasis on the Greek mythology, especially the part about Legacy's boss trying to kill her, and less on every little touch between the lovers.
If you want a good, fast-paced, well developed story uses Greek mythology as a base; I would recommend the Sweet Venom series. I have already reviewed two of those books. I just discovered that the third has come out as well so I will have to check it out too.
So in summary, I would recommend this one only if you like Greek mythology or teen romances that are mostly a tease. And, I wouldn't recommend it for anyone under fifteen. Let me know what you think.
Contains:
some language and sensuality.