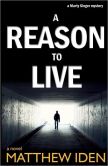 Review of A Reason to Live by Matthew Iden
Overview from www.barnesandnoble.com: In the late nineties, a bad cop killed a good woman and DC Homicide detective Marty Singer got to watch as the murderer walked out of the courtroom a free man.


Twelve years later, the victim's daughter comes to Marty begging for help: the killer is stalking her now.

There's just one problem: Marty's retired...and he's retired because he's battling cancer. But with a second shot at the killer--and a first chance at redemption--Marty's just found A Reason To Live.



My Review:
Retired Detective Marty Singer of the D.C. police has settled down to a quiet life of early retirement due to his recent cancer diagnosis when he is once again thrust back into the police work he left behind. First he ends up smack dab in the middle of a fight outside of a coffee shop. Then he is approached, immediately following the fight, by former victim Amanda Lane.
Ms. Lane tells him that she believes she is being stalked by the man who killed her mother years ago and got away with it. That's when he knows that she has him. This case has been eating away at him for years. He had always wanted a second chance at it and now it seems that he has it.
Against his better judgment, he agrees to take it on. Only he can't do it as a cop. It is strictly protection detail only. While he's at he'll do a little behind the scenes detective work. The sooner he finds the killer, Michael Wheeler, the sooner his job as a body guard/unlicensed private detective is done.
But is he up to the job? He enlists the help of a few detectives on the force but after his first chemo treatment wipes him, he wonders how he can protect young Amanda if he can't even stay awake during the day. He gives Amanda the choice to keep him on or get someone else and she chooses to keep him. He continues investigating and hopes that he won't let her down.
The plot is the strongest feature of the story. It was engaging and kept me turning the pages wanting to know what happened next. The ending was also not what I was expecting but didn't seem too much out of left field.
I recommend this book to anyone who likes suspense coupled with believability. I lived in the D.C. area for a while and from what I know about it most of it seems to be accurate, especially the part about the terrible drivers. The only caveat is that there is some of strong language in here. If the story weren't so good, that might have stopped me. Readers who don't mind this so much would probably like this book.
Contains:
strong foul language, including f bombs; some sexuality, violence