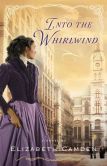 Review of Into The Whirlwind by Elizabeth Camden
Overview from www.barnesandnoble.com:
As owner of the 57th Illinois Watch Company, Mollie Knox's future looks bright until the night the legendary Great Chicago Fire destroys her beloved city. With her world crumbling around her, Mollie will do whatever it takes to rebuild in the aftermath of the devastating fire.
Zack Kazmarek, an influential attorney for one of Chicago's finest department stores, is a force to be reckoned with among the city's most powerful citizens. Bold and shrewd, he's accustomed to getting exactly what he wants--until he meets Mollie Knox, the beguiling businesswoman just beyond his reach.
In the tumult as the people of Chicago race to rebuild a bigger and better city, Mollie comes face-to-face with the full force of Zack's character and influence. Zack believes this may finally be his chance to win her, but can Mollie ever accept this man and his whirlwind effect on her life, especially with her treasured company on the line?
My Review:
Elizabeth Camden's novel brings "into the whirlwind" in more ways than one. And it all begins with the Great Chicago Fire.
Our main character, Mollie Knox, owns a watch making company known as the 57th Illinois Watch Company. She inherited it from her now deceased father who lived for his work and Mollie has inherited his drive though her business skills are all her own.
Before the fire, Mollie is a tough, no nonsense business women who wears her hair in braids to keep it out of her way as she works.
Zack Kazmarek is the lawyer for Hartman's, a fancy Chicago department store. He is equal parts ambition, control, and craziness. Although he has known Mollie for three years in their business dealings (his store sells Mollie's watch) he had never seen this side of her before nor had he ever had the guts to let his true feelings for her show. But the fire changed all that.
Realizing how easily he could have lost her, Zack finally declares his real feelings for her. But winning her love will not be easy.
Mollie dislikes the pressure that Zack has put her under and on top of that her business burnt to ground during the fire. The factory workers are counting on her to keep them employed, many of them dear friends of her father's during the Civil War, and she can't let them down.
The world she lives in has turned upside down overnight, something we can all relate to I think. At least those of us who remember the days after 9/11 and what a shock that was. As much as we might think it is something that only we modern citizens have experienced, it is nothing new.
I liked the character of Mollie Knox. In many ways she is different from the type of woman that we usually think of when we envision woman of the day and yet she is believable. She is tough but not so tough that we don't see her vulnerable side. And she is kind at the same time, always taking time to care about her employees as well as fighting to keep the company that her father loved afloat.
I also liked how the message to trust in God's love was not too heavy-handed like you see in many works of Christian fiction. And I liked how this book delved somewhat into the heart of Chicago's Polish Community. I am not sure if it exists as such these days but it is nice to imagine how it might have been.
While it is not my favorite type of Historical Fiction, I appreciated this Romance nonetheless. At least it didn't insult my intelligence and hopefully not yours. I suggest you give it a try.