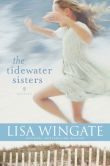 Review of The Tidewater Sisters by
Overview from
www.barnesandnoble.com
:
Tandi Reese and her sister, Gina, have always been bound by complicated ties. Amid the rubble of a difficult childhood lie memories of huddling beneath beds and behind sofas while parental wars raged. Sisterhood was safety . . . once. But now? Faced with legal papers for a fraud she didn't commit, Tandi suspects that her sister has done something unthinkable. With Tandi's wedding just around the corner, a trip to the North Carolina Tidewater for a reckoning with Gina was not part of the plan. But unraveling lies from truth will require confronting strained sibling bonds and uncovering a dark family secret that could free Tandi from her past or stain her future forever.
My Review:
The Tidewater Sisters is the first contemporary non-genre fiction that I have read in a few months. I wasn't expecting much from it. The only reason I picked it up was because it was set in North Carolina, not far from where I am now living and I thought it might be interesting to read about some of the people who live in the places that I am just now getting acquainted with.
I wasn't expecting all that much from it since I am not a huge fan of contemporary, non-genre fiction. It definitely exceeded my expectations.
Our main character, Tandi Jo Reese, tells the story from her point of view. It begins with Tandi Jo napping and dreaming of her first love, Luke Townley, only to be awakened by the here and now. She is at an historic house on Hatteras Island waiting for the third time for an electrician to show up.
Her fiancé, Paul, wakes her up. Shortly afterwards someone finally does come up the drive but it is not who she was expecting. A process server informs her that she is being sued for some type of false promises on the sale of a property. Since she doesn't own any property that she knows of, she now has to find out what this is all about and deal with it before her upcoming wedding. She doesn't know much but she is sure that it must have something to do with her estranged sister Gina.
The story follows her journey to the alleged property and on the trail to find Gina and find out what is going on as well as what really happened in the past that she thought she'd left behind. But maybe some things are better left in the past.
The story was surprisingly intriguing. Yes, there's something of a mystery to it but I don't think that was what drew me in. It was the emotions.
Tandi Jo was someone I could relate to. Her conflict emotions about her past as well as her hope for the future drew me in.
And the story was not preachy, the way a lot of fiction, Christian and otherwise, is. I felt invested in the outcome. So much so that my only disappointment in this story was that it was too short. It could, and should, have been a novel. There were areas of Tandi's life that I felt could have been explored more.
Still, this would be a great summer, beach read. Even with some of the major issues that she deals with. I don't know if Tandi Jo's story continues but if it does, I'd really like to read it.