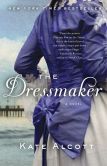 Review of The Dressmaker by Kate Alcott
Overview from
www.barnesandnoble.com
:
Tess, an aspiring seamstress, thinks she's had an incredibly lucky break when she is hired by famous designer Lady Lucile Duff Gordon to be her personal maid on the
Titanic.
Once on board, Tess catches the eye of two men—a kind sailor and an enigmatic Chicago businessman—who offer differing views of what lies ahead for her in America. But on the fourth night, disaster strikes, and amidst the chaos, Tess is one of the last people allowed on a lifeboat.
The survivors are rescued and taken to New York, but when rumors begin to circulate about the choices they made, Tess is forced to confront a serious question. Did Lady Duff Gordon save herself at the expense of others? Torn between loyalty to Lucile and her growing suspicion that the media's charges might be true, Tess must decide whether to stay quiet and keep her fiery mentor's good will or face what might be true and forever change her future.
My Review:
"Not another Titanic story," was my first thought when I began to read this one. To me, the Titanic is only slightly behind the Holocaust as the most overdone topic among authors who write Historical Fiction.
The question is: How can the author do justice to yet another story about these horrible tragedies without seeming repetitious or trite? The answer in my opinion is that it is very difficult to do this and was the reason for my hesitation in reading this book. In fact, if I hadn't paid for this one, I might not have continued.
Our main character is Tess Collins, a headstrong girl who, thanks to her mother's encouragement, is determined to succeed in the world and rise above her "station" to something great with her life.
At the novel's start, Tess makes a rather impulsive decision to leave her job as a mostly maid but part-time seamstress in some stuffy upper class English household to take a job on the Titanic. Unfortunately when she arrives at the docks, she finds out that all the positions have already been filled but knowing that she can't go back to her old job (and doesn't want to), she starts begging the families of passengers to take her on board with them as a nanny. Not surprisingly most of them want nothing to do with the haggard and desperate young women that they see in front of them.
But then fate intervenes when she spots the famous designer Lucille Duff Gordon saying goodbye to her sister and preparing to board the ship with her husband. Having admired her for years, Tess, of course, listens to her conversation where she laments the fact that the maid that was to accompany her on this trip has backed out at the last minute.
Tess immediately volunteers herself even though it means she is putting herself back into the servant business that she was trying to get herself out of. Hoping it will lead to a position as a worker in Lucille's office stateside, she has no qualms about accepting; even when she finds out she will have to call Lucille "Madame." But Madame's temper and the sinking of the ship are only the beginning of her problems.
The verdict for me was that I liked it but I didn't love it. What kept me from loving it was the love triangle situation. I am getting rather tired of those situations in stories and in this one in particular I really didn't see why Tess had to choose at all. She was young and determined in the beginning and then it all seems to fall by the wayside when she meets these two guys.
Also, I didn't really like the ending. It gives only a hint of what is to come. I like that it is not sappy at least but somehow I still felt it needed more. It seemed to be rather abrupt.
Positives were some of the characters. I liked Tess, though I liked her more in beginning. I also really liked the Pinky character who was one of the few female reporters of that day, working for the New York Times. She seemed exactly like the type of woman who had the guts to do what few women of her day would do and yet we see the heart beneath the persona as well even if we don't always like her tactics. I think she was my favorite character in the whole book.
Contains:
some language and violence