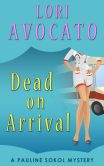 Review of Dead on Arrival by Lori Avocato
Overview from
www.barnesandnoble.com
:
Romance – and murder – is in the air!
Medical insurance fraud investigator Pauline Sokol likes to keep her feet firmly placed on the ground, but her new undercover assignment has the aero-phobic ex-nurse flying high and her stomach lurching! Compelled by her convictions of right and wrong, she takes off in order to ground a land-and-air ambulance company that's been doing some rather creative billing, and needs to crash and burn before they soak the insurance company for more.
Pauline's insides do a real loop-de-loop when the company's owner is found dead, and Pauline starts to receive threatening phone calls. Suddenly the air feels safer than the ground! If Pauline (and handsome, irritating, fellow investigator Jagger) doesn't solve this case soon, even a jolt of electricity from the sexy helo-pilot-paramedic ER Dano won't be enough to revive her.
My Review:
Part Chick-Lit, part Mystery, Dead on Arrival is funny, romp through one of the cases of Emergency Services worker and Insurance Fraud Investigator, Pauline Sokol. As an RN, her expertise is apparently in demand in the fraud investigation business and this time she'll be working as an RN for an ambulance company along with her partner-in-crime/mentor, Jagger, in an effort to uncover who is committing fraud with a side of murder.
This one reminded me of Janet Evanovich's Stephanie Plumb series in that we have an amateur female detective trying to solve a case without the assistance of the police and it is funny but, for the most part, that is where the similarities end (except for the two, make that three, hot guys that she is trying for and the humorous tone).
Our protagonist, Pauline Sokol (not sure what nationality that name is), is desperate to prove to Jagger that she is improving her detecting skills and that she can handle this case by herself but she can't seem to get totally out from underneath his shadow and expectations. We hear her thoughts as she relates how proud she is that she thought of this or that on her own so I can only assume that in previously novels she had to be told what to do.
Currently being in the medical field myself, I found the details somewhat interesting though I don't think anyone who is not in the field would find it too boring. I never thought too much about the billing side of things before though and Pauline's justification to her family that her investigations are important because insurance fraud raises the rates for everyone else made sense. And then you add in a murder and things get a whole lot more dangerous, and interesting.
Meanwhile Pauline's wisecracks and weak hormones kept me laughing along with the strange cases she encounters in the ambulance rides with "Buzz Lightyear" and "ER Dano." But when Pauline begins falling for ER Dano even though she has him on her short list of potential suspects will she be able to do the right thing and keep her personal feelings out of the case?
This case as told through Pauline's eyes was both interesting and entertaining too. I loved some of the other characters as well, especially Pauline's mom, Stella.
The only downside to this story is some of the profanity was a bit much at times for me and there were some typos. Plus, we are told two times about the time before the story took place when Pauline went out of town and her mother replaced all her underwear with thongs. It was funny the first time, the second time was overkill. Still, a good, lighthearted read.
Contains:
profanity (including a couple of f bombs), sexuality, and psycho patients