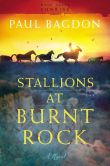 Review of Stallions at Burnt Rock by Paul Bagdon
Overview from
www.barnesandnoble.com
:
Lee Morgan dreams of raising the ideal ranch horse-one that has speed, stamina, and heart. On her Texas spread near the town of Burnt Rock, the high-spirited woman heads her own horse ranch operation. It's an unusual occupation for a female in the 1870s, but as an expert horsewoman and a crack shot with a rifle, she's quite adept at taking care of herself.
Determined to gain fame for her fine horses, Lee agrees to enter her magnificent coal-black stallion in a match race, never dreaming she's about to set into motion a string of events that will threaten herself, her ranch, and her friend-town marshall, Ben Flood. As gamblers, gunslingers, and shysters descend on Burnt Rock to bet on the now-famous race, Lee comes face-to-face with sinister men who seek to destroy her plans. Her true courage and strong faith shine through when she embarks on the most thrilling ride of her life.
The first in a series of western novels, Stallions at Burnt Rock is a masterfully spun tale of a strong, virtuous heroine. It will captivate romance novel enthusiasts as well as fans of westerns and adventure.
My Review:
Lee Morgan, a young woman living in Texas in the late 1800's, is an oddity for her time. She runs a horse ranch where she dreams of breeding the perfect ranch horse.
This book is also an oddity, a Western with little graphic violence, no profanity, a female protagonist and minimal shooting.
The plot was a little slow getting starting. It seemed like the beginning served mostly as an introduction to our main character, her staff and friends, and her horses. When Lee hesitantly agrees with her old friend and fellow horse breeder, Jonas, to conduct a horse race that pits their best stallions against each other in an effort to attract buyers for their horses, things start to pick up.
The promise of a race seems to attract all kinds of low-life's, gamblers, and even murderers to Burnt Rock. Soon Lee's friend Marshal Ben Flood is in over his head trying to talk Lee into being more cautious and keeping the rest of the town safe.
When Jonas is killed, Lee wonders whether or not it would be best to just cancel the race. But Ben convinces her that it is too late. With her trust in God leading her on, she hopes to get her horse Slick across the finish line and the gamblers out of town before anything worse happens.
So the story did get better. We had a little more excitement and lots of horses. In fact, the novel seems to center mostly around the horses and the sinister plot that got Jonas killed. There is a hint of romance though.
The characters were a little off to me somehow. I liked the marshal but the others somehow didn't seem quite right. Lee seemed a little too perfect for me. The only mistake she seems to make is trusting people too much and that seemed odd to me.
I like the fact that is a clean story but it seemed a little long to me, despite having only 136 pages. I would recommend this one if you really like horses a lot or are looking for short, clean Western to read. Otherwise, it might not be that interesting. On the plus side, it was free for the e-reader on both Amazon and Barnes & Noble's website the last time I checked.