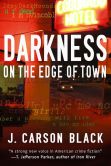 Review of Darkness on the Edge of Town by J. Carson Black
Overview from www.barnesandnoble.com:
Laura Cardinal: Packs a SIG Sauer P226 9mm. Investigates homicides in small towns that have limited resources. Brings justice to murder victims—and to their killers. Laura's job description: Criminal Investigator with the Arizona Department of Public Safety. But maybe it should just say "Troubleshooter."
Used to be kids played outdoors until time for dinner, now social media's the new game in town. These days, they play on their smartphones. But with more freedom comes greater danger. Mobile devices are a conduit into a child's life, not just for friends but for those who intend harm. This is the message of J. Carson Black's Daphne du Maurier Award-nominated thriller, DARKNESS ON THE EDGE OF TOWN.
My Review:
J. Carson Black was the author of a book I previously reviewed though I don't remember the title. I do remember that it also featured this Detective Laura Cardinal because I not only remembered the protagonist's name, but also this habit she had of seeing her deceased mentor, Frank Entwistle, show up out of thin air whenever she seemed to need extra help.
Laura Cardinal works for some type of Arizona state police agency that is called out to smaller locations whenever a crime is committed that is too much for local authorities to handle. The murder of Jessica Parris is one of those cases so the Bisbee PD calls for assistance and Laura dashes off to the rescue.
At first there is nothing to go on, other than the strange doll-like dress that the girl is found wearing and a note on a matchbox that reads CRZYGRL12. Laura is convinced from the start that the guy is either a beginning serial killer or that there are other victims but why were they not reported?
After a lead from Riverside County, California, she discovers she just might have found a link yet some of the modus operandi from the Indio murders are different from her own. To prove her hunch correct, she takes off for Florida where her alleged suspect lives, hoping that she is not wasting her department's time and money. Can she stop him in time?
Of course I am not giving away the ending but here's my two cents about the book. As before, I like the protagonist Laura Cardinal and I think the idea that she still talks to her dead mentor is really unique but also makes her relatable. As she hunts down bad guys who are no doubt insane, her encounters with Frank leave us wondering if she is even sane herself.
Then with her dilemma about allowing her boyfriend of two months to move in with her we see that she has trust and security issues. Given her past experiences with men though as well as they type of work she does, I can't really blame her.
The negative for me was mainly the language. The f word appears a little too frequently for my taste. And then there is the serial killer bit. I know that there are probably many people who like serial killer mysteries but I usually find them too gory for my taste. This one however was not as bad as I thought it would be.
In any case, if you don't like a lot of bad language and are entirely adverse to gore, I would skip this one. For everyone else however, I think it is a pretty good story with well-developed characters that make for an entertaining story.
Contains:
language (including the f bomb) and violence with mild gore.