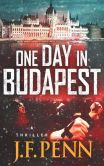 Review of One Day in Budapest by J. F. Penn
Overview from www.barnesandnoble.com:
A relic, stolen from the heart of an ancient city.
An echo of nationalist violence not seen since the dark days of the Second World War.
Budapest, Hungary. When a priest is murdered at the Basilica of St Stephen and the Holy Right relic is stolen, the ultra-nationalist Eröszak party calls for retribution and anti-Semitic violence erupts in the city.
Dr Morgan Sierra, psychologist and ARKANE agent, finds herself trapped inside the synagogue with Zoltan Fischer, a Hungarian Jewish security advisor. As the terrorism escalates, Morgan and Zoltan must race against time to find the Holy Right and expose the conspiracy, before blood is spilled again on the streets of Budapest.
One Day In Budapest is a chilling view of a possible future as Eastern Europe embraces right-wing nationalism. A conspiracy thriller for fans of Daniel Silva, where religion and politics intersect.
My Review:
I finally got a chance to read (and thus review) J. F. Penn's work. It was enclosed near the end of a special e-book edition containing twelve mystery stories for ninety-nine cents. I had bought a while ago but had not idea that any of her books were in there.
This book, however, was only a novella. I also did not know that. But maybe it was best that start on a small sample rather than a full length novel.
I think that this novella was either number four or three in her series featuring Morgan Sierra as its protagonist. I believe that it is part of the ARKANE series. The author does have at least one other series.
The story starts with a bang. Dr. Morgan Sierra, whose father is Jewish, arrives in Hungary to deliver an old Jewish relic to a local synagogue on very same day that a priest is murdered nearby. An ancient relic from Hungary's past is stolen by the murders and a Star of David is painted at the crime scene.
Feeling that they have been betrayed by the Jewish population, Hungarians begin to riot all over the city of Budapest, many of them closing in on the synagogue. Joining up with a man named Zoltan who she meets at the synagogue, Morgan determines to find this holy relic to prevent as many deaths as possible.
When some Jewish citizens are later symbolically killed by the river, Morgan knows she cannot leave without stopping whatever chaos the Nationalists are trying to exploit. When she finds proof of where the relic is and who is involved, she will stop at nothing to make sure that she can prove it to the Hungarians before the violence escalates. But will she make it in time?
I won't give away most of the story but here's my two cents. The good parts of this story are almost everything. It is fast paced and mostly believable. The story keeps you turning the pages. The characters seem to be mostly well done also.
The negatives was that the f-bombs were used a little too frequently for me taste and the ending seemed somewhat abrupt for my taste. I realize that part of it was the set up for the novel but somehow it felt like something was missing at the end of the story.
Overall though, I recommend it but with some reservations due to the language and some general grossness.
Contains:
language, some sexuality, and cannibalism (yuck)