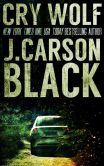 Review of Cry Wolf by J. Carson Black
Overview from
www.barnesandnoble.com
:
Laura Cardinal: Packs a SIG Sauer P226 9mm. Investigates homicides in small towns that have limited resources. Brings justice to murder victims--and to their killers. Laura's job description: Criminal Investigator with the Arizona Department of Public Safety. But maybe it should just say "Troubleshooter".
Tell me no lies.
Laura and her aspiring-film-director partner, Anthony, catch a homicide case where nothing is as it appears. When pathological liar Sean Perrin is found dead in his car at a trailhead in scenic Madera Canyon, he leaves behind a skein of lies and half-truths that are impossible to untangle. From violent death in a sordid motel room to a high-end prostitution ring in Las Vegas, Laura and Anthony follow Sean's trail across a landscape of broken dreams and convincing lies—until they confront the true evil behind the mask.
My Review:
This week's review comes to us courtesy of a Nook book that I bought for .99 cents which features twelve mystery/thriller novels. The first one was Don't Know Jack which I reviewed a few weeks ago. I enjoyed Cry Wolf by J. Carson Black much more.
It was also one of a series, though strangely, the last one instead of the first one. It seems like most of the cheap or free books on the Barnes & Noble website nearly always feature the first book in the series.
Our protagonist on this one is one Laura Cardinal, homicide detective for some police department near Tucson. Her blissful Saturday with her man is interrupted by the call to duty when Las Vegas resident Sean Perrin gets himself murder in nearby Madera Canyon.
She and her partner, Anthony, a screenwriter in training, must now unravel the mess of lies that Mr. Perrin has told about himself. For example, was he really a Navy Seal? Did he really have a model for a wife? Well, you get the idea.
It turns out that at least some of Mr. Perrin's stories were true but which one got him killed? While searching for the answer which seems always just out of reach for Laura, she has to contend with the occasional appearances by her former, deceased, mentor, Frank. He points her in the right direction but he can't solve the case for her.
This story seemed short to me but that wasn't necessarily a bad thing. I appreciate how the author wisely didn't load it down with a bunch of crap just to make it longer. The ending was different from what I expected but not unlikely, as were the characters.
I recommend it as a great read for summer, light and entertaining. You don't need to be a rocket scientist to enjoy this one.
Contains:
some language and sexuality