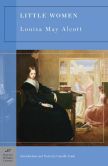 Review of Little Women by Louisa May Alcott
Overview from
www.barnesandnoble.com
:
Generations of readers young and old, male and female, have fallen in love with the March sisters of
Louisa May Alcott
's most popular and enduring novel,
Little Women
. Here are talented tomboy and author-to-be Jo, tragically frail Beth, beautiful Meg, and romantic, spoiled Amy, united in their devotion to each other and their struggles to survive in New England during the Civil War.
It is no secret that Alcott based Little Women on her own early life. While her father, the freethinking reformer and abolitionist Bronson Alcott, hobnobbed with such eminent male authors as Emerson, Thoreau, and Hawthorne, Louisa supported herself and her sisters with "woman's work," including sewing, doing laundry, and acting as a domestic servant. But she soon discovered she could make more money writing. Little Women brought her lasting fame and fortune, and far from being the "girl's book" her publisher requested, it explores such timeless themes as love and death, war and peace, the conflict between personal ambition and family responsibilities, and the clash of cultures between Europe and America.
My Review:
Revisiting the Louisa May Alcott classic this week was somewhat of an emotional experience. Tackling this story, I thought, would be easy.
After all, it has all the characteristics of a Hallmark channel movie for those who remember those. A nice, cutesy little story about four girls growing up with limited means. The forward of the Barnes & Noble version of this classic tells how the novel was something of a mirror of the author's own life and experiences.
Jo is basically Alcott, we are told. I knew this already but what I didn't know much about was the involvement of Alcott's father, Amos Bronson, in the Transcendentalist movement. Ralph Waldo Emerson was a close family friend who Bronson often depended on. Alcott's father was also one of the residents of

"Fruitlands" in Harvard, Massachusetts, where the Transcendentalists conduct their first experiment in a social utopia. (And fail.)
So the saga of the March sisters is not just about the "little women" but also has some underlying messages in it that the author, for the most part, tries not make too heavy-handed. However, in many cases she fails. She even admits it at one point when she digresses into a sermonette on how old maids ought to be treated and then says: "Jo must have fallen asleep (as I dare say my reader has during this little homily)."
Back to the plot now, I mentioned Jo who is the writing sister and based on Alcott herself but we also have some other great characters. The oldest March sister is Meg who seems to be easy-going while hoping to be somewhat fashionable. Jo is second, followed by Beth, whose goal in life is simply to take care of the rest of the family as well as make life easier. The only selfish thing she asks for is time alone with her piano and music. While Amy starts off as the spoiled one who later hopes to bag wealthy husband in order to help others.
The girls grow up mostly on their own with the guidance of Marmi, their mother, and Hannah, the housemaid. That is until their neighbors Laurie and his irritable grandfather, Mr. Laurence, intervene. And then we also have the persnickety Aunt March who is constantly telling the girls and their mother how things should be done but to no avail since no one really listens to her.
Later Papa survives the Civil War to come home to his "little women" but is worse for the wear. Nevertheless trouble still stalks them in their personal lives as well as the issues of the time such as racism and the attitude of the wealthier set towards poverty.
Even though it seemed sadder to me this time that the last I really enjoyed the story. It was impossible for me not to fall in love with the girls all over again and feel their pains as my own even when I didn't agree with them. Jo fancies herself a boy but finds that she is after all, a woman. The others become better women and in the end make the lives of those around them better for having known them. And that was the best thing about this story.