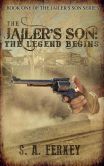 Review of The Jailer's Son: The Legend Begins by S. A. Ferkey
Overview from www.barnesandnoble.com:
A boy becomes a man before his time...
Maxwell Beck is no average boy. Thanks to his pa's insistence, he's a sharpshooter, sleight of hand artist, acrobat, and cardsharp. These are handy, yet highly unusual skills for the son of a traveling salesman. Even so, Max thinks he's living a normal life, until one fateful day when he inadvertently sets a chain of events into motion.
My Review:
Surprisingly, I am back to Western genre again this week with this new story, the first in a series. This was a free one that I thought I would take a chance on and it seems that normally the free ones are the first in a series.
Our main character is a young fifteen year old named Max. One day as his father takes him out to teach him something (as he was frequently wont to do), Max accidentally shoots him.
As it becomes apparent that his father will soon be dead, he begins to tell him things about his past life and childhood. The most important fact that his father tells him is that he needs to go to Deadwood to meet up with a man named Turtle.
Determined to save his father's life since he is still in denial about his father's imminent death, he does as he asks, taking his father to Deadwood with the help of his Indian friend, Hinto. As he reaches the town he immediately encounters Turtle who is none too pleased to see him or his father. Max immediately decides that he wants nothing to do with Turtle or the town of Deadwood.
The story is entertaining. I like the characters but what I think I liked the most was that it was told from the point of view of a fifteen year old boy. Thus you could say that it is also a YA or maybe a YA Western if there is such a thing.
It makes perfect sense for the time period also that although Max gets a lot of teasing for his younger looking appearance, in most ways. His life is that of a man. He eventually gets a job as ranch hand where he becomes more like a son to the owner but while he has many adult responsibilities, he also has many teenage characteristics such as a first crush on a local and a general longing for his dead parents.
The plot is also interesting and yet not too violent. This is a typical Western though perhaps not an R-rated one, so it could make a good gift for a teenager in your family or for you if you are a teenager. I'd like to read the next in the series, if I ever have the money to buy it.
Contains:
some violence and language