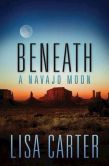 Review of Beneath a Navajo Moon by Lisa Carter
Overview from www.barnesandnoble.com:
The search for a woman who disappeared in 1906 has lead cultural anthropologist Erin Dawson to Cedar Canyon, where the iconic terrain of red rock walls and mesas keep Navajo traditions—and maybe criminal evidence—well hidden. When Erin's search leads her to cross paths with tribal policeman Adam Silverhorn, it's hardly love at first sight. But everywhere she turns, Adam is already there.
Fighting their feelings for each other, the two are suddenly thrust into a battle far more dangerous—a common quest to rout an insidious drug cartel that has spawned the recent rise in gang violence on the reservation. Adam's position of authority gives Erin a rare glimpse into Navajo life few outsiders like her ever see—and into a crime ring that no one dares to imagine. As danger mounts, Adam and Erin begin to wonder if they will live to tell how they really feel.
My Review:
This week's story surprised me since it wasn't at all what it seemed. It had its thriller element to be sure but when it came down to it, it really seemed more of a love story, a story of forbidden love.
Our main character, Erin Dawson comes to the Navajo Res to investigate what happened to a female ancestor in her adopted family. I don't remember exactly who was adopted but I think it was her father. Still the fact that they were not blood-related in no way diminished Erin's enthusiasm to find out what happened to Olivia.
This was the part of the story that held my interest as well. Olivia and her life at the mission school in Arizona and later as the bride of her Navajo captor was interesting to say the least. In a time when a white woman who married a Native American and had children by him would probably have been considered disgusting, Olivia was bound and determined to her husband and life on the Res. What Erin wanted to know was, did she succeed?
The downside for me was that most of the story focused on Erin and her troubles in the here and now. This part wasn't as interesting except for the little tidbits about Navajo culture. Her man troubles bored me most of the time. Her interest in Olivia didn't but Olivia was not the focus of the story which was too bad because I think I might have enjoyed her story more.
The race around the canyon and the cave for the Mexican drug dealers and the discussion of their threat to the people did interest me but I found myself wondering whether the author was trying to jam in too many characters' stories into one book. I guess it worked overall but as I said I like some parts better than others.
Overall I think this story would be a better fit for someone who likes Romance stories about all else and Christian Romance at that, with just a little bit of history thrown into the mix. For me, it had its good points but it wasn't my favorite. I would to hear someone else's opinion on this story though, especially if they have some background in the Navajo culture. Let me hear from you please.
Contains: some action violence and sensuality