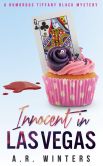 Review of Innocent in Las Vegas by A. R. Winters
Overview from www.barnesandnoble.com: Cupcake-loving croupier Tiffany Black is determined to leave her job at the casino for good. She's one small step away from acquiring her Private Investigator license, and has her eye on the prize.
Accepting her first real case - investigating the murder of casino-mogul Ethan Becker - should be exciting. Instead, things spiral out of control and Tiffany finds herself in over her head, as she confronts secretive suspects, corrupt casino henchmen and her mysterious, ex-Special Forces bodyguard.
Tiffany's poker-hustling Nanna and pushy parents want her to find a nice man and settle down, but Tiffany just wants to track down the real murderer before he finds her first...
My Review:
I head back to the mystery genre this week and this time to what I think could be classified as Cozy Mystery. It's the first in series, but aren't they all?
If you're wondering why I am doing so many lately it's because I have so many of them on my Nook that I either got on Free Friday or for very little money (one was $1 for a 12 all in the same volume) that I am trying to get to them all. But I am trying to mix them in with other genres so that we don't get too bored.
Our main character is Tiffany Black, a young lady who works at a casino by night and is studying to be Private Investigator by day. She is about to get her certification when she is offered her first case.
An old acquaintance from high school named Sophie has hired her to investigate her husband's murder since the police seem to have already concluded that she did it. Of course it does not help that the murder weapon was found in her bedroom. Talk about a smoking gun.
Against her better judgment, Tiffany takes on the case and soon finds that there are many people involved who would rather leave the case as it is with Sophie as suspect #1 and they are also willing to kill Tiffany to see that it remains that way.
The mystery itself is unique, refreshingly so. But there was another aspect of the story that I didn't like that sort of cropped up at the end that I wasn't sure I would like. I suspect that the author is intending to go in the direction of a future love triangle and well, I am not sure that I want to read another one of those. I don't know about you but I am really getting sick of love triangles.
I like the character of Tiffany Black. She is relatable and reminds me a little bit of Stephanie Plumb, the bounty hunter from one of Janet Evanovich's novels. She is also funny and she makes the story a breeze to read as it is told in her voice. I literally read it in a few days even though I was also working those days. It went so fast I could hardly believe it when it was over.
Still not sure yet if I will continue with the series though but if I do, it will probably be a while before I get to it with all the other mysteries I have to read. I would recommend it to anyone who would like a light Cozy that doesn't take much effort to read.
Contains:
some F bombs at the beginning.